Impact's Creative Team Growing Strong!
… And we just keep on growing! Impact has had one heck of a year, and we're not stopping! In the midst of our growing business, comes two new employees. Meet Michael Hogan and Marie Howey, the newest members to Impact's web development and digital marketing team.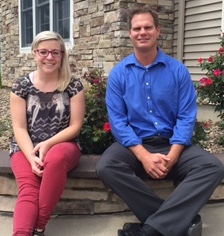 Michael joined Impact in December as a Web Developer specializing in digital marketing. He is our "go-to" Google analytics guy, and is extremely talented in web design and development, SEO/SEM, and digital remarketing. Michael is able to tie these skills together by understanding the client focus and what is most important to their business. Outside of work, Michael is no slacker either! Married for 17 wonderful years with 3 kids. Part of his personal hobbies are not only spending time with his family, but also coaching soccer and t-ball for his children. Impact got lucky with this one!
Additionally, Impact was fortunate enough to bring Marie Howey on board as the newest web developer. Marie's talents and years of experience are a great fit to Impact's digital marketing department. Her top priorities are designing state of the art websites with a creative passion only Impact can get away with. Armed with a degree in Web & Interactive Media, along with her background and talents, Marie creates and achieves a detailed vision for all of her projects from their conception to completion. Outside of work Marie is focused on her daughter who certainly has the brains of her mother (hmm, future Impact employee?)